Kid Specialist at Gita Bhawan – Dr. Priyanka Jain
Selecting a pediatrician for your child is a choice that should not be made lightly. A pediatrician is a medical professional who can help you through your child's early years in addition to treating your child when they are ill. The following qualities make Dr. Priyanka Jain the greatest kid specialist at Gita Bhawan
Investigate and Request Suggestions
Everyone is aware that a newborn baby requires extra attention because the likelihood of infection is significant. Everything you should discuss with Kid Specialist at Gita Bhawan Dr. Priyanka Jain she assists you with the appropriate physical examination and immunizations needed at that time.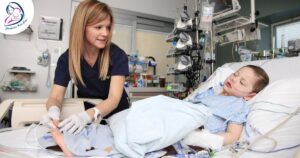 Examine the Venue and Hours
Bachpan Kids Care clinic is a handy office location close to your residence or place of employment, You will find it simpler to get to appointments and emergencies as a result. Clinic time is flexible and Dr. Priyanka Jain Kids Specialist at Gita Bhawan also available in emergency cases.
Verify the credentials of the pediatrician
Dr. Priyanka Jain Best Pediatrician Gita Bhawan Square has board certification and a state-issued license to practice. She has an experience of several years as a child specialist
Choosing the Right Pediatrician Gita Bhawan Square
In conclusion, always picking a pediatrician for your child is a choice that must be carefully thought through, Choose the pediatrician who is the best fit for your family's needs by doing your research and scheduling appointments with many candidates. Keep in mind that a good pediatrician may be a helpful partner in your child's development and health.
The main role of Best Child Specialist Dr. Priyanka Jain Best Pediatrician Gita Bhawan Square is to treat newborns, young children, and adolescents.
Click this link to Read More Articles:- https://childspecialistindore.in/blog/